Weigh hopper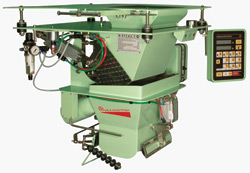 Weigh hopper of "Norma-S" product line
Designed for packing of bulk products (grain, seeds, cereals, sugar, granulated materials, fodder, peat, etc.) into open type bags.

Remote computer may be used to monitor the status of weight-dosing NORMA-S, NORMA-SB and NORMA-SL models.

Weight batchers allow monitoring (recording and display), the number of filled bags from the time given by the operator, as well as display the weight of the product.

Thanks to the modular design of the weight hopper equipment it is easy to operate and maintain it. And considering the possibility of high-precision dosing that provides the equipment and the lack of influence of the human factor in the process of packing of the proposed equipment pays for itself pretty quickly.

For NORMA-S, NORMA-SR and NORMA-SB weigh hopper models it is available to set an extra counter to monitor the total number of bags that have already been shipped out of the batchers.

---

Workpiece type
Dosage range,
kg
Capability,
dose/hour
Inaccuracy,
%

---

Norma-S
5 - 15
15 - 50
600
500
0,37
0,1

---

Norma-SR
2 - 10
10 - 15
15 - 50

270
0,75
37,5 g
0,1

---

Norma-SB
5 - 50
240
0,2

---

Norma-SL*
5 - 50
600
0,5

---
*main purpose - salt packing
NORMA-S
designed for packing loose products (sugar, cereals, grains, seeds, animal feed, granulates and so on.) in bags of open type
NORMA-SR
simple inexpensive option for small batches packaging
NORMA-SL
designed for packing salt and other bulk products into bags of open type
NORMA-SB
Designated for packing of the finely divided bulk stock: flour, dry milk, premix and so on into the bags of open type